Skimmers sit buried along the edge of the pond, letting water flow in through an opening in the front. Skimmers provide physical filtration by removing about 90 percent of the leaves, sticks and other large debris that enters the pond. Often used in conjunction with a BioFalls.
(Check out our Skimmer Identification Guide to find out what kind of skimmer you have and order any needed replacement parts.)
BioFalls filters sit at the top of the waterfall. Water flows in through the bottom of the filter and up through filter mats and other special media – usually plastic BioBalls or lava rock – before spilling out at the top of the waterfall. BioFalls are used primarily for biological filtration. Often used in conjunction with a skimmer.
Pressure filters are often buried next to the pond. They offer physical and biological filtration by passing water through different kinds of filter media with help from a submerged pond pump. Many pressure filters also come equipped with a UV Clarifier, a lightbulb-type device that kills the kind of suspended algae that turns water green. While having biological and physical filtration in a single unit sounds convenient, we usually prefer a BioFalls/skimmer combination for the most effective and low-maintenance filtration. (See more below).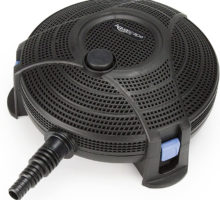 Like pressure filters, submersible filters offer physical and biological filtration by passing water through filter media. We generally don't use these kinds of filters, though, because they're not as effective as a skimmer/BioFalls combo, and significantly more difficult to clean (unless you're into Scuba diving).
Some ponds have "drains" at the very bottom of the pond that pull water into a filtration system. Contrary to what some pond builders believe, you actually don't need a bottom drain – in fact, we don't use them in our pond builds at all because, like submersible pumps and filters, their location at the bottom of the pond makes them a pain to maintain. If your pond doesn't have a bottom drain, or if it does and you decide you don't like it, a skimmer and regular doses of beneficial bacteria/sludge cleaner will keep the pond plenty clean – and make maintenance a lot easier.
Fish need good gas exchange in the pond to keep them happy and healthy – and aerators help that happen. In summer, they add an extra boost of oxygen to warm water, which has a hard time holding oxygen. In winter, they help keep a hole in pond ice, break the surface tension and remove carbon dioxide to keep fish happy.
An Automatic Dosing System adds regular doses of water treatment – mostly beneficial bacteria – into the pond so that you don't have to do it by hand. If your pond has one, it will be somewhere next to the pond. If the system was made by Aquascape, you can find instructions and water treatments for your system here.
UV clarifiers use a lightbulb-like glass tube to kill the kind of algae that turn pond water green. They're often included in pressure filters, or you might have one as a standalone unit. While UVs aren't necessary if you have good filtration, they can be helpful tools if your pond already has one installed and you don't mind periodically replacing the bulb.
Ionizers release copper ions into the water through a probe, creating conditions that string algae don't like. Like UV clarifiers, they're not necessary if you have good filtration (plus lots of plants to pull algae-feeding nutrients from the water), but they can be nice to have. If your pond already has one, you'll need to replace the probe as it wears down (every one to three years).
Life as a pond owner means years of enjoying the sights and sounds of water, the companionship of beautiful fish, and lots of quality time outdoors.
Hopefully this guide has show you how easy it is to care for your new backyard oasis. If you want to make life even easier, and you live near York, PA, contact our Service Team to have us take care of your pond for you.
Want to learn more about your pond? Check out these other articles from our Learning Center: