POND SKIMMER IDENTIFICATION GUIDE
What Kind of Pond Skimmer Do I Have?
A pond skimmer is one of the most important tools you can use in your pond. Much like a swimming pool skimmer, these devices pull debris from the surface of the water, keeping pond maintenance to a minimum. Skimmers also provide a safe and easy-to-access home for your pump.
If you purchased a house with a pre-existing pond, you might not know the exact model of the installed skimmer. That's usually not an issue – until you have to buy replacement parts.
Below are some of the most common Aquascape-brand pond skimmers that we encounter and install (or used to install). If Splash or another Aquascape-certified contractor installed your pond, the skimmer is very likely one of the models listed here.
If Splash installed your pond within the past several years, you probably have one of the newer models listed here. (The older models have largely been discontinued, but you can still purchase replacement parts).
Look at the size of your pond. Smaller ponds will usually have smaller skimmers. We install the Signature Series 200 skimmer in our smallest ponds (The Lilypad), the Signature Series 400 in medium ponds (The Lotus) and the Signature Series 1000 in large ponds (The Oasis).
Most skimmers have distinct debris baskets/nets. Compare your basket to the ones in the photos to find a match.
Replacement parts aren't always interchangeable between models. Make sure that any parts you purchase are made to fit your specific skimmer.
Need help? Bring some pictures or the parts you need to replace to our York, PA retail store, and we'd be happy to assist you. See hours and directions.
Usually installed on ponds smaller than 200 square feet
Mesh debris net
6-inch weir (opening)
Weir door has black sponge
Comes with black lid
May have optional green brush cartridges
Usually installed on ponds smaller than 400 square feet
Rigid debris basket
6-inch weir (opening)
Weir door has black sponge
Comes with faux rock lid
Usually has a filter mat between the pump and the debris basket
Usually installed on ponds smaller than 1,000 square feet
Rigid debris basket
8-inch weir (opening)
Weir door has black sponge
Comes with faux rock lid
Usually has a filter mat between the pump and the debris basket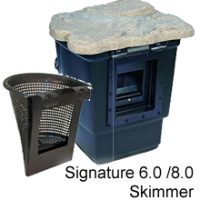 Rigid tapered debris basket
Comes in two sizes: 6.0 and 8.0
6.0 has a 6-inch weir (opening)
8.0 has an 8-inch weir
Weir door has white sponge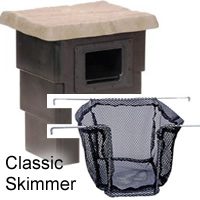 Mesh debris net
Comes in three sizes: Standard, Large and Grande
Standard net has a 7-inch opening in front
Large net has a 9-inch opening
Grande net has a 16.5-inch opening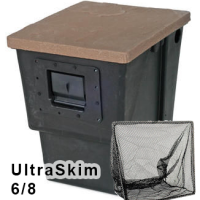 Mesh debris net
Comes in two sizes: 6 and 8
UltraSkim 6 has a 6-inch weir (opening)
UltraSkim 8 has an 8-inch weir
Comes with filter brushes instead of mats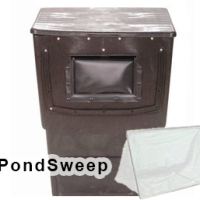 Mesh debris net
Comes in two sizes: SK700PRO and SK900-1200PRO
SK700 has an 8-inch weir (opening)
SK900-1200 has a 10-inch weir
Signature Series 200 Skimmer Replacement Parts
Signature Series 400 Skimmer Replacement Parts
Signature Series 1000 Skimmer Replacement Parts
Signature Series 6.0 & 8.0 Skimmer Replacement Parts
Classic Series Skimmer Replacement Parts
UltraSkim and PondSweep Replacement Parts