---
We love ponds here at Splash. They're low-maintenance, beautiful and provide a great place for supervised kids and pets to hang out (not to mention a tranquil place to relax after a long day at work.)
But ponds aren't for everybody. Maybe you have young children, or maybe you don't have any interest in taking care of koi or goldfish.
You can still enjoy the sight and sound of water in your backyard with a Disappearing Waterfall.
A Disappearing (also known as Pondless®) Waterfall is basically what the name says — a waterfall and stream that seems to "disappear" into the ground instead of into a pond. These popular and low-maintenance water features provide a great alternative to traditional ponds.

---
At a Glance: What is a Disappearing (or Pondless) Waterfall?
A Disappearing Waterfall is a water feature that includes a waterfall and stream but no pond.
Disappearing Waterfalls use a pump-powered system that constantly recirculates water.
Water circulates from an underground basin up to the top of your water feature, where it cascades over the waterfalls and streams.
Disappearing Waterfalls can be customized to fit any space or design.
---
How Does a Disappearing Waterfall Work?
A Disappearing Waterfall – also known as a Pondless Waterfall – is a very low-maintenance garden water feature that can be installed in the front or backyard landscaping.  Although a well built Ecosystem Pond is easy to own and take care of, a Disappearing Waterfall requires almost no work to keep it looking great.  The waterfall simply recirculates water from an underground basin through the underground pipes and over the rocks and boulders, creating a beautiful, naturalistic waterfall connected by sections of stream.
Let's take a closer look at the pieces that make up this clever water feature:
Waterfall Spillway
This is where your waterfall starts. The spillways we install and include in our DIY kits provide a steady, leak-free stream of water, ensuring your waterfall looks just like one you'd find in nature. Spillways are easy to camouflage with plants and rocks.
Rock & Gravel
The rock and gravel in your Disappearing Waterfall is what helps your waterfall disappear. Water seeps down through the rock and gravel into the hidden underground water storage blocks. We arrange the rock and gravel in such a way that it looks natural, just like what you would find in a stream during a hike in the woods.
Pump Vault
The pump vault houses your disappearing waterfall's pump and check-valve assembly, keeping them safe from the elements and preventing clogging. Although hidden from sight underground, the vault is still easy to access for maintenance and checking the water level in your Disappearing Waterfall.
Pump
The pump is the heart of your Disappearing Waterfall's circulation system. It's what keeps the water flowing. We use high-quality, energy-efficient pumps that require little maintenance. Keep your pump running as much as possible to increase oxygen levels in your waterfall and support beneficial bacteria.
Water Storage Blocks
We're going to let you in on a secret: There's no such thing as a truly "pondless" waterfall. While the water in a Disappearing Waterfall looks like it's disappearing into the rock and gravel, it's actually going into underground water storage blocks. These boxes – also known as matrix blocks – are the "pond" in your Disappearing Waterfall. The water storage blocks keep the water out of sight under the water feature.
Liner & Underlayment
Do-it-yourselfers have tried to replace pond liner and underlayment with all kinds of junk: carpet scraps, roofing  rubber and who knows what else. None of it works. Our Disappearing Waterfalls are made with liner and underlayment specifically designed to keep water where it belongs: in your water feature. The fish-safe EPDM liner is tear-resistant, and the sturdy underlayment further protects the liner from rocks and other sharp objects.
Underground Pipe & Plumbing
The Disappearing Waterfall's pipe and plumbing moves the water from the pump vault up to the waterfall spillway. Like the rest of your Disappearing Waterfall's equipment, the pipe and plumbing is hidden safely underground.
Is a Disappearing Waterfall Right for You?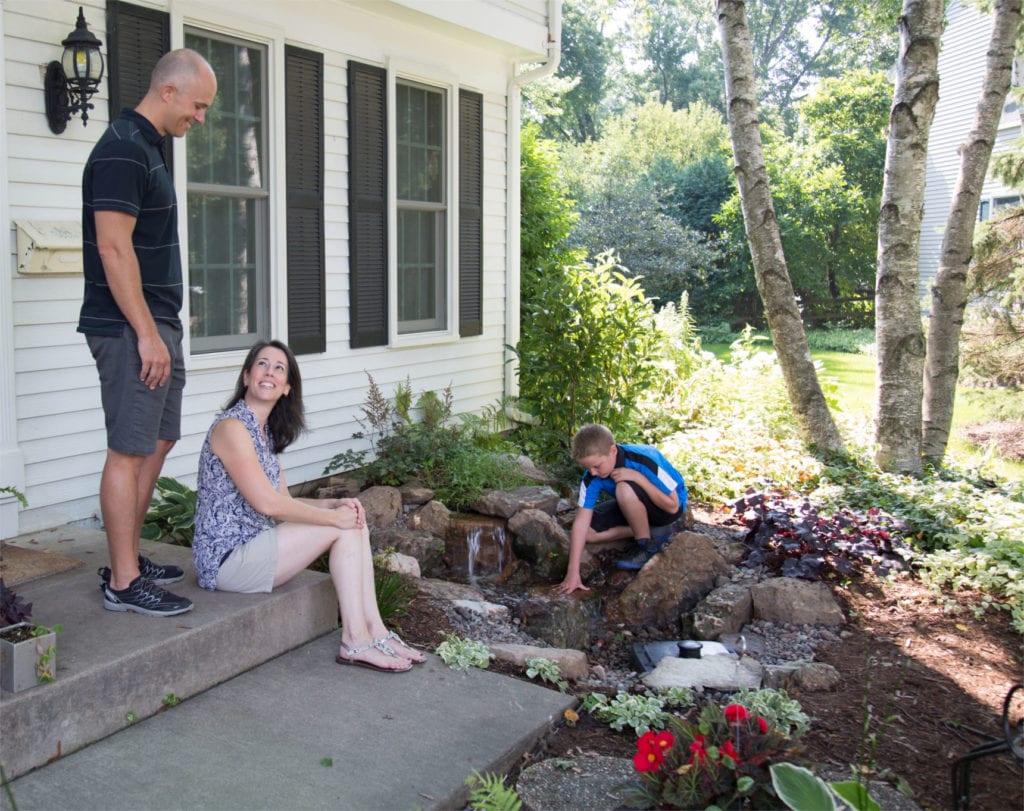 Disappearing Waterfalls are a great alternative to a traditional pond. Here are some reasons you might opt for a pondless water feature:
You have small children or pets:Â Supervised kids and dogs love to splash around in ponds. If the idea of a pool of water in your yard makes you nervous, though, a Disappearing Waterfall can give you the sight and sound of water without the worry.
You have a small space:Â Because all the equipment and water storage is underground, Disappearing Waterfalls can take up much less space than a traditional pond. Of course, you always have the option of building a big waterfall if that's what you prefer.
You want minimal maintenance:Â Ecosystem Ponds are super easy to maintain, and Disappearing Waterfalls are even easier.
You're not quite ready to commit to a full pond:Â Maybe you like the idea of adding a pond to your backyard, but you're not sure if you're ready to take the leap. A Disappearing Waterfall is a great way to dip a toe into the world of water features. We can always expand the waterfalls into a full pond if you change your mind later.
Professional Installation or DIY?
So you've decided to add a Disappearing Waterfall to your yard. Congratulations!
Now, you have a choice to make: Do you install it yourself or hire a professional to do it for you?
Professional Installation by Splash
The team at Splash Supply Company has more than 30 years' experience installing relaxing, eco-friendly water features. If you choose to have us install your Disappearing Waterfall, you can rest easy knowing every detail – from the flow of the water to the look of the surrounding landscaping – will be right the first time.
Our professionally installed Disappearing Waterfalls start with two basic packages: The Dragonfly and The Dragonfly Mini. The Dragonfly includes three to five waterfalls, up to 3 feet of total elevation change and a 10- to 15-foot-long stream. The Dragonfly Mini includes two or three waterfalls, up to 2 feet of total elevation change and a 3- to 5-foot-long stream.
These packages are just a starting point to help you think about the kind of waterfall you want. We'll customize your Disappearing Waterfall to fit exactly into whatever space you want, adding additional waterfalls and design elements if you'd like. If you can dream it, we can build it.
The cost of a professionally installed Disappearing Waterfall starts around $4,500 for the Dragonfly Mini and around $6,900 for The Dragonfly. Financing is available. Check out our Idea & Price Guide for details.
Ready to have us install your Disappearing Waterfall? Fill out our Pondsultation form to get started.
DIY Disappearing Waterfall Kits
Do you feel pretty confident in your shoveling skills? Have some time to fill? Then you might want to install your Disappearing Waterfall yourself.
Our DIY Disappearing Waterfall kits include the high-quality parts you need to build a water feature that will bring years of enjoyment to your backyard.
When you buy your kit from Splash Supply Company, we'll talk about your exact hopes and expectations for your backyard oasis. We'll likely swap out pieces from the kit (i.e. if you need a different-sized liner) and go through the instruction manual step-by-step, crossing out and changing instructions as necessary.
Once you have your kit perfected, we'll deliver that big box right to your house, free of charge if you live locally. We're always just a phone call or visit away if you have questions during the building process.
You won't get that kind of service from Amazon.
Ready to get started? Visit us at 1298 Toronita St. in York.
Related Articles
What's Included in a DIY Pond Kit?
5 Tips for Bringing the Inside Outiside