Your New Disappearing Waterfall: Everything You Need to Know
Congratulations on your new Disappearing Waterfall!
Life as a waterfall owner means hours of rest and relaxation in your backyard oasis. We've designed your Splash waterfall to require as little maintenance as possible – so you can just sit back and enjoy it.
This guide will walk you through everything you need to know about your new water feature. Don't feel obligated to read everything at once – but know that you have all the information you need here (and throughout the rest of our Learning Center) at your fingertips whenever you have a question.
We hope you find this guide helpful, and we're always available by call, text or email too to answer any questions.
Welcome to the Splash Family!
Getting to Know Your Disappearing Waterfall
Getting to Know Your Disappearing Waterfall
Your Disappearing Waterfall is essentially a simple – but beautiful – recirculating fountain. Water flows from the basin through your pipe, out of the spillway, then back down through the streams and waterfalls. As the name implies, the water seems to "disappear" into the ground at the bottom, where it is actually flowing back down into the basin. You might also hear people refer to this kind of water feature as a Pondless Waterfall.
Let's take a closer look at the pieces that make your waterfall work:
1. Liner & Underlayment
Our Disappearing Waterfalls are made with liner and underlayment specifically designed to keep water where it belongs: in your water feature. The EPDM liner is tear-resistant, and the sturdy underlayment further protects the liner from rocks and other sharp objects.
2. Pump Vault
The pump vault houses your Disappearing Waterfall's pump, keeping it safe from the elements and preventing clogging. Although hidden from sight underground, the vault is still easy to access for maintenance.
3. Water Storage Blocks
While the water in a Disappearing Waterfall looks like it's disappearing into the rock and gravel, it's actually going into underground water storage blocks. These boxes – also known as matrix blocks – are the "pond" in your Disappearing Waterfall. The water storage blocks keep the water out of sight under the water feature.
4. Pump
The pump is the heart of your Disappearing Waterfall's circulation system. It's what keeps the water flowing. We use high-quality, energy-efficient pumps that require little maintenance.
5. Underground Pipe & Plumbing
The Disappearing Waterfall's pipe moves the water from the pump vault up to the waterfall spillway. Like the rest of your Disappearing Waterfall's equipment, the pipe and plumbing is hidden safely underground.
6. Waterfall Spillway
This is where your waterfall starts. The spillways we install and include in our DIY kits provide a steady, leak-free stream of water, ensuring your waterfall looks just like one you'd find in nature. Spillways are easy to camouflage with plants and rocks.
7. Rock & Gravel
The rock and gravel in your Disappearing Waterfall is what helps the waterfall disappear. Water seeps down through the rock and gravel into the hidden underground water storage blocks. We arrange the rock and gravel in such a way that it looks natural, just like what you would find in a stream during a hike in the woods.
Your First Days as a Waterfall Owner
Your First Days as a Waterfall Owner
Helpful Details to Know about Your Waterfall
How many gallons of water are in my water feature?
This number will help you calculate how much water treatment to apply. Use our volume calculator, or the following formula:
Stream Length (ft.) x Stream Width (ft.) x 0.17* x 7.48 = Stream Volume
Basin Length (ft.) x Basin Width (ft). x Basin Water Depth (ft). x 7.48 = Basin Volume
Stream Volume + Basin Volume = Total Gallons in the Water Feature
*0.17 ft. is the average depth of most streams. This equates to about 2 inches.
What kinds of plants do I have?
We split our aquatic plants into two categories: hardy (perennial) and tropical (annual). We like to include a mix of both kinds in our pond and waterfall builds, so ask your designer which ones will return year-after-year, and which ones you'll need to replace.
You can also browse our plant library to learn more.
What kind of equipment do I have?
Your final invoice should list details about your pump, autodosing system, lights and other equipment. Keep this information handy in case you need to replace or repair anything.
We've designed your Splash Disappearing Waterfall to provide you years of enjoyment, without a lot of work.
Most Disappearing Waterfalls are fairly self-sustaining, but you might find that the following products help keep everything looking extra clean:
If you didn't have an autodoser installed with your waterfall, you might want to add one. These systems add a constant drip of treatment into the water, helping to prevent string algae and scale buildup.
We recommend purchasing the Automatic Dosing System for Fountains, which includes a pouch of Prevent for Fountains water treatment (prevents scale, odors and cloudy water). You may also want to add a pouch of Clear for Ponds to help treat string algae as needed. Both of these treatments are safe for animals that drink from your waterfall.
EcoBlast is a powder that kills string algae on contact. Simply unplug the falls, apply the powder, and remove the algae as it releases from the rocks. While you'll probably always have a little bit of string algae in your waterfall, EcoBlast is an easy-to-use tool to help make your water feature look extra polished. Check out our troubleshooting section for more information.
How to Add Plants to Your Waterfall
Your Disappearing Waterfall already has a hand-picked selection of beautiful plants. But if you want to add more – and we hope you do! – it's easy to do.
The more plants you add to your waterfall, and the wider the variety, the more nitrates they'll pull out of the water. Nitrates also feed string algae, so more plants in the pond means less string algae.
Getting to Know Your Plants
You have lots of plants to choose from when it comes to making additions: flowering plants, grassy plants, tropical plants, carnivorous plants, floating plants … What you choose is ultimately a matter of personal preference.
> New to water gardening? Check out our Top 10 Pond Plant FAQs
> Ready to browse ideas? Check out our Plant Directory
At Splash, we grow hundreds of varieties of plants that you can find at our retail store (1298 Toronita St., York). For a disappearing waterfall, you'll want to focus on marginal plants that like moist soil or up to about 2 inches of water. We like to include lots of groundcover plants in our streams, like Creeping Jenny, Bog Bean and Water Forget-Me-Nots, plus a few taller accent plants like cannas or taro.
Each plant you buy at Splash comes equipped with a tag that shows you everything you need to know, including how deep to plant it and how much sunlight it likes. The tag will also tell you whether or not the plant will survive the winter here; a blue tag indicates the plant is winter-hardy, while an orange one indicates it's not. Finally, each tag includes a QR code that you can scan with your phone for access to videos and additional information.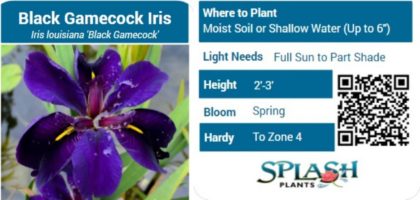 The best way to add plants to your Disappearing Waterfall is to plant them directly in the stream. To do this, simply brush some stream gravel to the side to expose the liner where you want to place the plant. Then remove the plant from the nursery pot, brush away excess dirt and gently press the remaining dirt and roots against the liner. Finally, move the gravel back over the base of the plant to keep it in place.
Experiment with different plants and positioning until you find a look you love. We personally like to tuck low-lying creeping plants between rocks, and place taller plants at the top or bottom of the falls.  
You might see a little bit of soil make its way into the water when planting. This is normal and will clear up on its own. Add a flocculant like Rapid Clear for even faster results.
The Splash Website: How to Schedule Service & Find Supplies
When it comes time to schedule maintenance for your waterfall, we recommend using one of our easy online contact forms. These forms will get you in touch directly with our service team and ensure they have all the information they need to work on your pond.
When it comes time to buy supplies, you have the choice of visiting us in-person or ordering from our Online Store.
If you decide to visit us (we'd love to see you!), you can rest assured knowing we'll be here for you year-round at 1298 Toronita St., York. Click here for directions and current hours.
Our online Learning Center includes hundreds of articles, from troubleshooting guides to seasonal care tips.
It also has digital instruction manuals for our most popular equipment, as well as tons of information about aquatic plant care.
Events & Learning Opportunities
We love sharing our space and expertise with you!
Whether you're looking to learn or looking to relax, we hope you'll join us for one of the many events we hold throughout the year.
Our Coffee with the Pond Guy Seminar Series walks you through all the basics of owning and caring for a low-maintenance water feature. Click here for our class schedule.
Our Pond Parties give you an opportunity to enjoy snacks, drinks and local music as you stroll the beautiful ponds and waterfalls in our backyard gardens. Parties begin at 6 p.m. on the third Thursday of the month throughout the summer. Click here to learn more.
Taking Care of Your Waterfall
How and When to Add Water
Your waterfall will lose water over time because of evaporation. If you notice decreased flow, try topping it off with 15 minutes of water from your hose (adjusting the time if you need more or less). Simply place the hose over the basin or anywhere in the waterfall. You can also check the water level by lifting the inspection cap on top of the pump vault and looking inside.
Over time, you'll learn how much evaporation is normal for your water feature. Most people find that they only have to top off their waterfall a few times each year, but your rate may vary depending on the size of your falls, the weather and how much sun your water feature receives. 
If you lose more water than usual, you likely have debris diverting the flow of water or a piece of liner pushed out of place. Follow our troubleshooting tips below to fix the problem.
How to Operate Your Waterfall Pump
The pump is the heart of the waterfall's circulation system. 
It lives inside your pump vault at the base of the falls for easy access, but you probably won't need to touch it more than a couple times per year for routine maintenance.
Should I Run My Pump 24/7?
We design our waterfalls to flow 24/7, 365 days a year. We recommend running your waterfall as much as possible so your plants get plenty of water and you get maximum enjoyment from your water feature. Our pumps are extremely energy efficient, so operating costs are minimal.
That being said, you can unplug your waterfall periodically if needed, i.e. if you plan to be out of town for a few days. Just make sure not to let plants dry out too much during the growing season.
You might also want to unplug your pond for a day every so often to help dry out string algae (see our guide below to learn more), or during the winter if you don't want to deal with ice build-up (see our section on seasonal waterfall care).
For most waterfalls, turning on the pump is just a matter of plugging it in.
If you have a variable speed smart pump, you also have the ability to adjust the volume of water going over the falls. Use the (+) and (-) buttons on the receiver panel, or connect the receiver to the Aquascape Smart Control App to control it from your phone. We also offer a Universal Remote if preferred.
Water Treatments and Autodosers
How much you treat the water in your Disappearing Waterfall depends on how natural you like your falls to look.
We design our waterfalls to work with nature. Plants provide filtration and minimize string algae, while beneficial bacteria grow in the nooks and crannies of the stream gravel. Many waterfall owners never add additional treatments to the water.
Others prefer a more polished look, with minimal string algae or scale build-up. If you fall into this camp, you may want to invest in an automatic dosing system to add a constant drip of eco-friendly water treatments into the falls.
You can also spot treat excessive string algae as needed. Check out this guide from our Learning Center for details.
Autodosers add a constant drip of water treatment to your waterfall. You may have had one installed when your water feature was built, or you might decide to add one later.
The autodoser canister sits outside the water feature, usually buried in the ground and camouflaged with a decorative cover. A control panel snaps on top of the canister.
Autodoser treatments are sold in convenient ready-to-use pouches. All you have to do is swap out the pouch when it's empty. We usually recommend Prevent for Fountains (helps with scale build-up) and/or Clear for Ponds (helps with string algae) for Disappearing Waterfalls. View the instruction manual for dosing instructions and other details.
Run your autodoser 24/7, spring through fall, for best results.  In winter, remove the head unit, tubing and treatment pouches (and bottom canister, if possible) and store them in a frost-free location. Failing to winterize the doser could damage your system and void the warranty. Check out our autodoser winterization guide for details.
Like everything with your Disappearing Waterfall, your plants should require very little maintenance. Just cut them back if you feel they're outgrowing the space.
You don't need to fertilize waterfall plants unless they seem to be struggling. They'll pull all the nutrients they need right out of the water – helping keep your waterfall clean in the process.
We recommend keeping a wide variety of plants in your waterfall, both for aesthetics and to remove string algae-feeding nitrates from the water. See our section above for more information about adding new plants to your waterfall.
At Splash, we design our pondless water features in such a way that you can enjoy your waterfall year-round, without worry.
If you keep your waterfall running in winter, keep an eye out for dams created by snow, ice and debris. You may also need to top off the basin every so often (we recommend keeping a garden hose in a frost-free location so it's ready if you need it).
Alternatively, you may decide to shut down your waterfall in winter. You might want to choose this route if you're going to be away from home for an extended period of time, or if your garden hose is frozen.
To shut down the falls, just unplug the pump. We design our waterfalls without a check valve – so when the pump stops, the water drains out of the pipe and back into the basin. This setup prevents frozen water from damaging your pipes. If you plan to leave the falls off all winter, you may also want to disconnect the threaded union to drain any leftover water laying in the pipe.
Store the pump in the basin over the winter, and plug it in for a minute or two every few weeks to reduce pump stress during spring startup. You do not need to drain the basin.
Check out our Winter Waterfall Guide for more information.
Take the opportunity in early spring to clear away dead leaves and other winter debris. If you disconnected the pump over the winter, reconnect it and top off the basin with a hose.
Spring is also a great time to add plants.
Top off the waterfall with a garden hose as needed.
Depending on where you live, you may need to remove leaves from the falls every so often to prevent build up. If you live under lots of trees, consider installing a net over the waterfalls until late autumn.
You can cut back your plants if desired, or leave them for the wildlife to enjoy through winter.
Troubleshooting Common Waterfall Problems
Owning a waterfall means hours of relaxation and tranquility as you take in the sights and sound of nature.
We've designed your Splash Disappearing Waterfall to require little maintenance and provide decades of worry-free enjoyment. Still, nature is unpredictable – and sometimes we need to give our waterfalls a little help.
This troubleshooting guide will walk you through everything you need to know about dealing with common waterfall problems, and show you how easy it is to get back on track to enjoying your backyard oasis.
How to Treat String Algae
Have you ever seen green gunk clinging to the rocks in your Disappearing Waterfall? That's probably string algae, an organism that commonly hangs out in moist areas, feeding off excess nutrients in the water.
String algae is a natural, normal, expected, and beneficial part of a balanced ecosystem in a pond or waterfall.
Almost every Disappearing Waterfall has some string algae. It won't hurt anything when present in moderate amounts. If you don't mind the way it looks, you can usually leave it alone.
But what if string algae takes over – or you simply get tired of looking at it?
Fixing the problem is usually easy to do. Try the tips below, or check out our full Waterfall String Algae Guide.
How to Troubleshoot Water Loss
Debris build-up and pushed down liner cause most water loss issues in Disappearing Waterfalls.
Walk the length of your waterfall and look for dams and other obstructions that could push water out of place. Also take a look at the stream edges for places where liner may have slid down.
Keep in mind that you will lose some water to evaporation. This is normal and can be fixed by periodically topping off the basin with a garden hose.
If you've followed these steps and still can't find the cause of the problem, and you're confident that the water loss isn't from evaporation, contact our service team to take a look. Leak diagnostics are often expensive and time-consuming, so make sure to rule out other causes before calling in the pros.
How to Troubleshoot a Pump
Your pump should rarely require maintenance. Even so, clogs, electrical problems and other malfunctions hit most pond and waterfall owners at some point. These issues tend to be rare and can usually be fixed quickly without professional help.
Our Pump Troubleshooting Guide will help you diagnose some of the most common pump problems and get your waterfall flowing again.